Why Magento is the Best eCommerce Platform?
Do you know Coca-Cola, Nike, Samsung are several other big names that are also using Magento for their eCommerce stores? It is also considered the best platform for small and medium companies. What could be the possible reason? It's Versatility.
In this article, we have discussed why Magento is the best platform for any eCommerce store and why do companies prefer it. So, keep scrolling to catch more.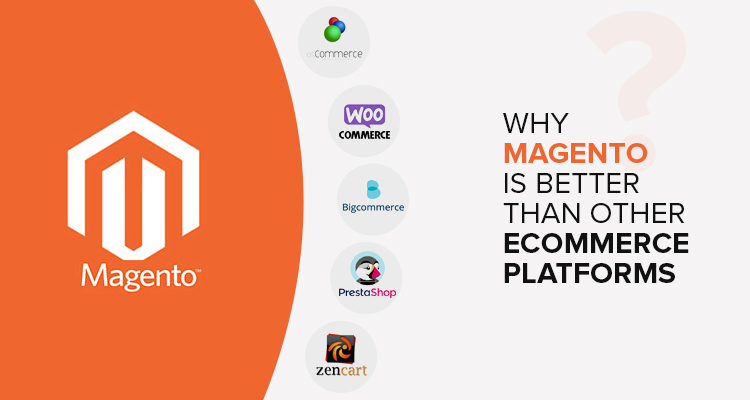 It is an eCommerce platform that is an open-source technology that provides online merchants with a versatile shopping cart system. Magento also offers different tools for the management, content, and practicality of its online stores.
It empowers 270000+ outlets and types with the most effective eCommerce platforms and versatile cloud solutions to rapidly innovate and grow. According to market surveys, it remains the most popular e-commerce development platform for the fourth year running on the market with a 26% share.
Why Magento?
There are thousands of reasons why Magento eCommerce development is most well-liked as compared to the other e-commerce platforms.
It has some unique features which make it easy to customize as per your personal preferences. It is the only best solution for growing businesses in digital commerce.
A huge variety of themes and thousands of extensions are available in the marketplace.
With the help of these extensions, the online appearance and functionality of your website can be increased to make it look more enticing for the target audience.
It is available for free and anyone can download and customize this tool for their eCommerce website.
This open-source version can help you build an effective web shop whereas you may need paid versions of other platforms to achieve similar functionality.
You get full control of designing and customization as per your business in it.
Most important, it is a platform that's SEO-friendly and enables you to optimize your website and maximize your online presence easily.
Magento for your eCommerce store
Its portfolio and statistics are attracting a maximum number of merchants around the world. The ones who have got started with this eCommerce platform are having great success. In terms of versatility, its open-source design enables you to add every customized element or function.
The best eCommerce platform has a collection of plug-ins and updates. If your company requires something unique, you can employ a Magento developer to create the framework from the ground up as per your specifications.
The community of this eCommerce platform is filled with experienced developers, retailers, designers, agencies, and of course online users. Different companies and startups are selecting it for their eCommerce stores and it is surely the best eCommerce platform present today.
What's new with Magento 2?
With the latest feature, security, and performance enhancements Adobe has released Magento Commerce 2.4.2 in February.
The following are some features of Magento Open Source 2.4.0
Support for PHP 7.4
Elasticsearch 7.6.x is now the default catalog search engine for Magento.
Magento 2.4.x supports MySQL 8.x.
Removal of the MySQL catalog search engine.
MariaDB 10.4 support
Magento @ BlueHorse Software
BlueHorse Software is one of the leading names when it comes to Magento Development. It offers the highest level of expertise in eCommerce development. The team has developed more than 40 highly customized eCommerce Applications in the last 11 Years. The list of the project also includes many renowned brands like Mufti Jeans, Eureka Forbes, Manyavar, Donebynone, Cello World, and many more.
We have been one of the best Magento companies working on long-term projects, carrying complex customizations to give seamless experiences to the consumers. The team has experience in complex Customization like Integration with SAP, Creating Custom Payment flow, Creating Customer Trail, etc.
Conclusion
It is a great medium for online marketplace entrepreneurs to build and develop eCommerce stores of any configuration. It already has a large variety of SEO functionality, software, and other features that make it the perfect place for someone looking to offer their goods or services online. BlueHorse Software is offering the best services in Magento development.
So, let us know your queries about the Magento platform in the comment section. We love to hear from you.