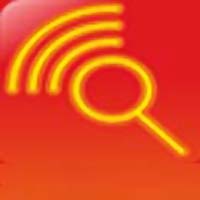 Amne Samne Jobs connects the recruiters and candidates based on their localities. It means that the candidates are offered the best opportunities to work with power packed companies in their locality, and the companies can also hire the cream of the crop the same way.

Nailing ASJ's Requirements
Amne Samne Jobs had shared their aims and objectives with BlueHorse team very clearly. We understood their thirst to deliver a wider platform to a large number of people based on various localities around the country, and figured that the ASJ team deserves a killer yet user friendly app for their associates, clients and candidates. Understanding the various user roles and building functionalities for them always works as a starting point for our projects. The USP of this project is that it is not a job portal, it's a hyperlocal way to connect job seekers with job providers and recruiters.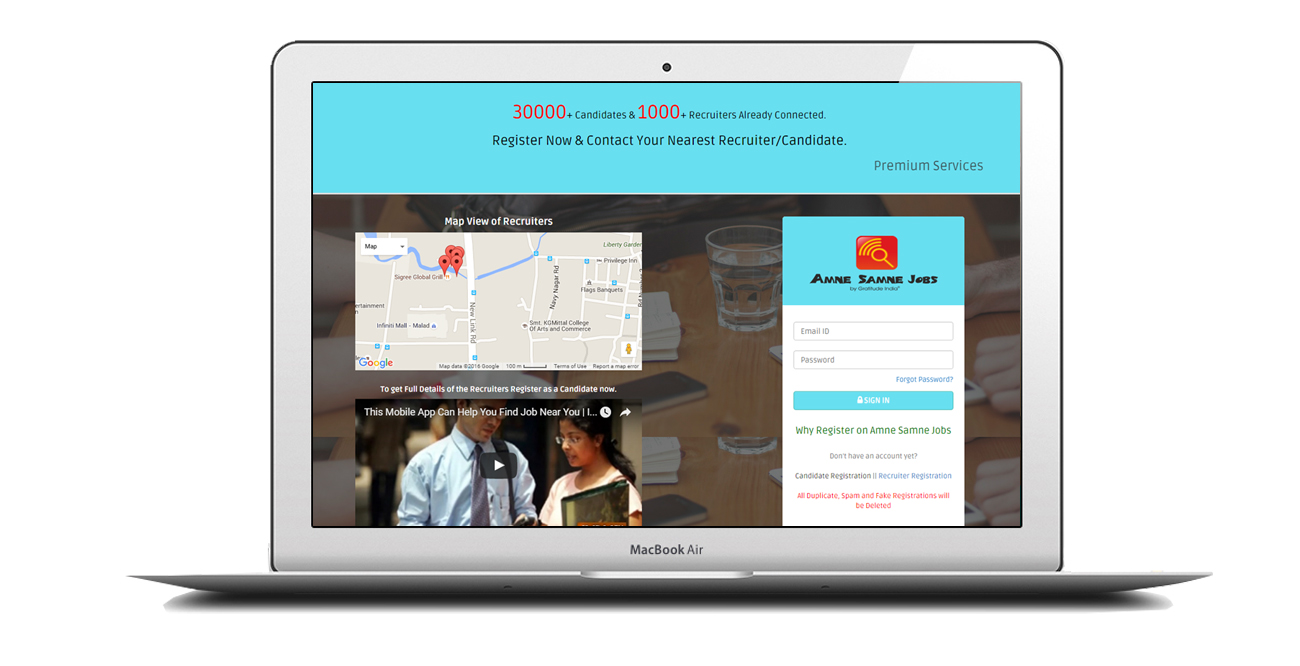 Digging Deeper Always Brings Out The Uniqueness
ASJ's core is app based, which means we get to use the users' location, and hook job seekers up with hiring businesses and head hunters who are nearby and will give them a quick way to contact each other by phone, so they can even hang out at a neighbourhood coffee shop. Hiring On the move, knowing this as the core feature of the product, we took out all the extra fluff and chose the right tools and the right design methods for users to get their job done, the fastest and the easiest way.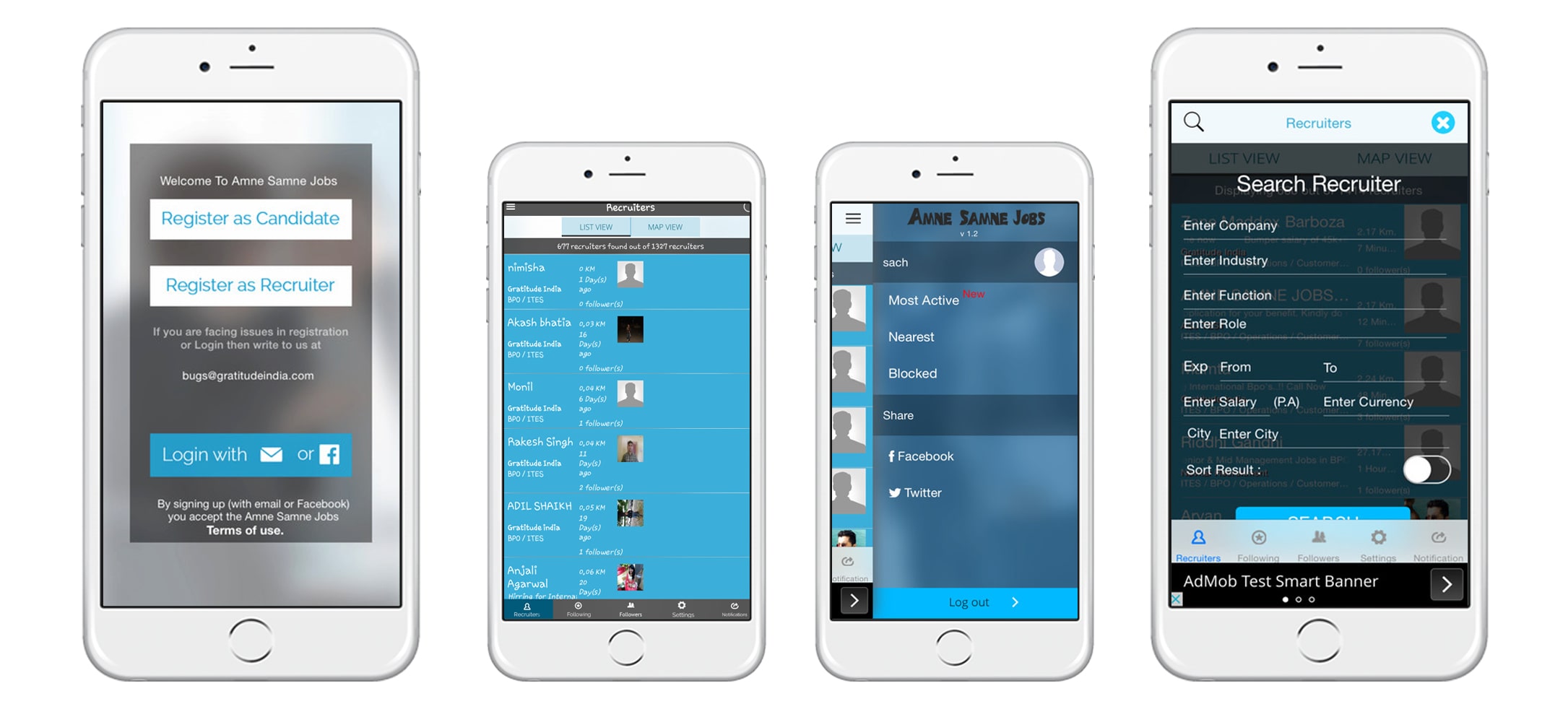 Awesome User Experience No Matter the Medium
Boatloads of useful features are available on this site as well. Apart from a local map view, this site has ensured that the candidates can see the current recruiters. Separate sections for recruiters' and candidates' to log in and do their businesses have been provided. We have also ensured that the viewers get to see the associated big recruiters at a glance and hence we have arranged a recruiters' visual panel at the bottom, where one can see the top most recruiters of the country like WIPRO, HCL, Genpact, American Express, WNS and much more.
Results Don't Lie
10,000+ downloads along with a 4.6 rating on Google Store can tell you how well this app is being received. More than 1,000 recruiters and 3,000 job seekers are associated with this platform today. Among all the online career destinations, Amne Samne Jobs is carving its niche and is achieving success, powered by its uniqueness, and BlueHorse's flawless execution.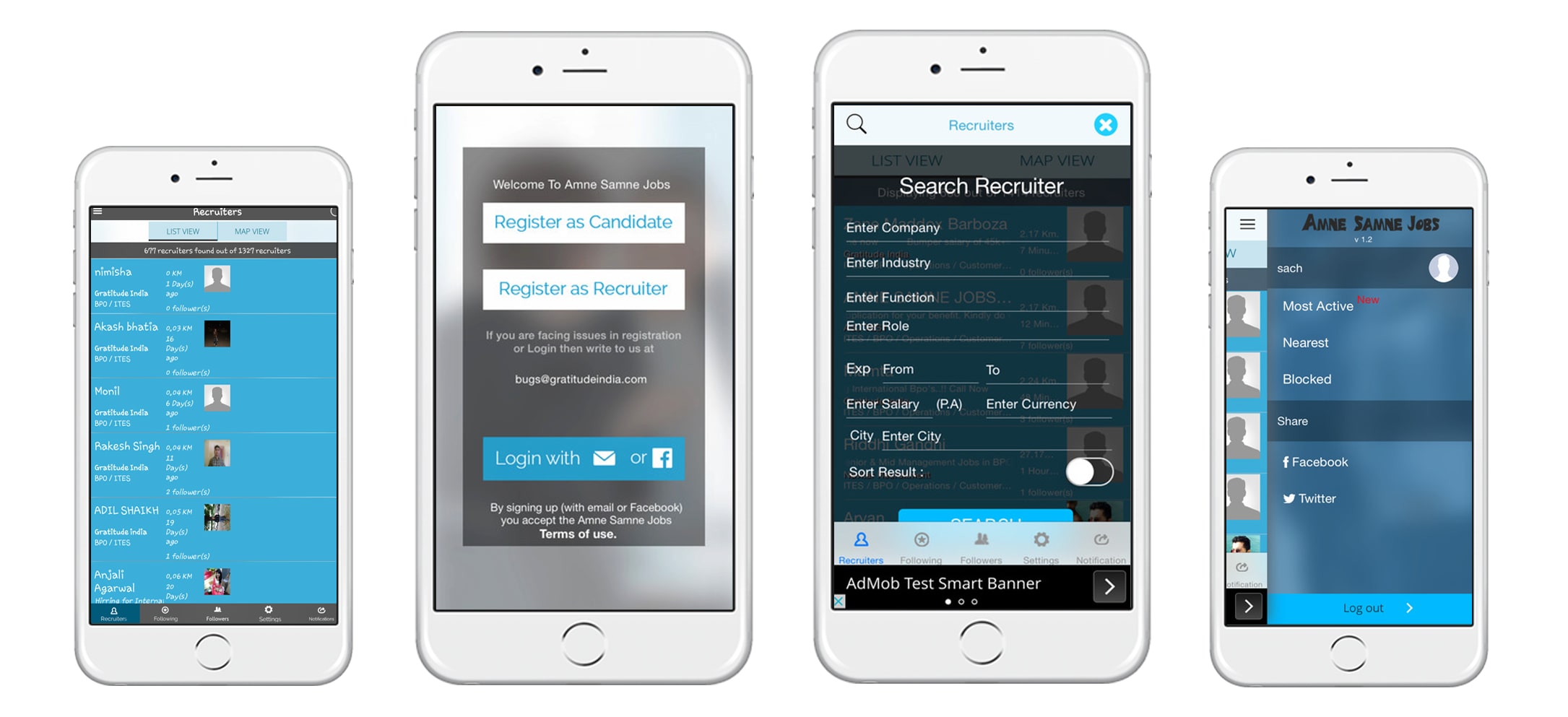 Stay Upto Date With Our Newsletter.